Telephone Spy - record phone conversations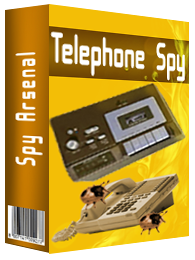 Telephone Spy records telephone conversations directly to your hard disk with a single push of button, optionally playing a legal disclaimer before recording a call (ideal for use in business environment). It stores calls as standard Windows sound files, adding a memo to allow fast and easy call navigation. The software is Caller ID compatible so there is no need to type caller's number and name: call logging will be matched with call detail record obtained from the Caller ID information. Record a phone call with a simple push of button, or enable automatic call recording.
Telephone Spy has an option to record incoming phone calls automatically. Automatic outgoing phone call recording is only available with dedicated telephony software.
Telephone Spy can optionally compress phone calls being recorded in real time, while maintaining compatibility with Windows WAV format: the messages can be played or edited with any Windows sound recording application, including Windows Sound Editor.
Telephone Spy can work in cooperation with your answering machine box: it can start recording the phone call right after the answering machine finishes playing its greeting message. Call Corder will automatically hang up once a message is left and the other party disconnects.
Supports: Windows 95, 98, ME, NT 4.0, 2000, XP
Main features
Legal Disclaimer
Guide on Call Recording Laws
Recorded Phone Calls on Your Disk
Call Logging and Annotating
Caller ID Call Recording
E-Mail Call Forwarding